The Library has a variety of STEM (Science, Technology, Engineering, Math) kits for everyone to check-out. The kits are located in the Eureka! Collection next to the Adult Non-fiction.
Image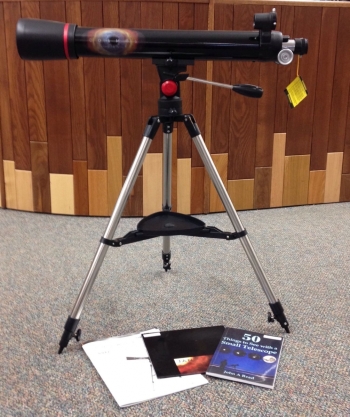 Kits can be checked out for 14 days.
Available Kits
Circuit Playground Express
Learn how to program visually with this microcontroller.
Cosmos 60AZ Telescope
Check out the skies with our refactor telescope.
Goldiebox and the Spinning Machine
Build conveyor belts and other belt driven machines with this super cool kit. Includes a book with lots of ideas.
K'Nex Hyper Space Kit
Build a Gravity Accelerator or a Flight Simulater with this cool snap together set. Instruction book included.
LittleBits Electronics
Create and explore electronics with this fun magnetic, snap-together kit. Example circuits provided. 
Makey Makey
Make a game controller (or something else cool) with Makey Makey and a banana. 
Marble Maze
Play with marbles and gravity! Make your own marble mazes with this kit of interlocking pieces. 
Robot Coding Mouse
This beginners programming kit has all you'll need to help your little robotic mouse friend navigate the mazes you build.
Snap Circuits
Construct over 700 electronics projects with this snap-together kit. No soldering required! Project guide-books included.
Sphero Mini Robot Ball
Build your own mazes, obstacles, towers and other courses to navigate through the living room.
Squishy Circuits
Create artful electronic designs with conductive play dough and electronic components. 
The kits were made possible through a memorial fund of Willie Erway, University of Wisconsin trained scientist and long-time Oregon resident. It continues to grow from donations.