Contact Kelly the Librarian at kallen [at] oregonlibrary.org (subject: Online%20Resources%20for%20Learners) if you have any questions about Teen Services.
Image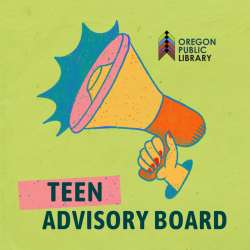 Teen Advisory Board: Have a Voice at the Library
If you are interested in TAB, please complete this online form.
The Teen Advisory Board (TAB) is a volunteer group of teens that offers suggestions and provides input to the Youth Services Librarian Kelly about teen reading interests, activities, programming, and space planning. Attend the Kick-off to learn more! Pizza and refreshments will be served!
More on the Teen Advisory Board (TAB)
Teen Read Book Box
For young people in grades 7th-12th.
Sign up for Fall Box will open soon.
Each participant will a box with goodies. After completing this survey, our librarians will be able to hand select a library book.
Boxes will be ready end of June for pick up at the Oregon Public Library front desk.
The Library will email you when your box is ready for pick up! Limited spaces available so sign up soon!
Questions? Contact Kelly Allen at kallen [at] oregonlibrary.org, or call 608-835-6265.
Thank you to our sponsors of our first session!
Culver's
Kickback Cafe
Oregon Frozen Yogurt
Pizza Pit