Membership
The Friends of the Library support the library through fundraising activities, volunteer work and promoting resources and services. The Friends are also the main sponsor of the Summer Library Program.
New members are welcome! Membership applications are available in the library entrance, at the circulation desk, and online. To join, or renew your membership, print and return the 2023 Friends Membership Form. You can become a member in-person before the booksale. For meeting information, call the library at 835-3656.
Newsletters
Current issue: September 2023
Past issues:
Image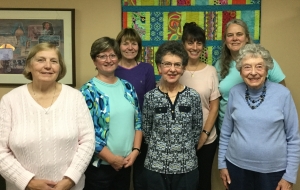 Officers
Beth Larimer, President
Sue Johnson, Vice-President
Karen Gipp, Secretary
Lucy Ruth, Treasurer
Brenda Anderson, Membership
Used Book Sale
Book Sales
The Friends of the Library hold Used Book Sales each April and October.
The next book sale is October 14 from 9 am-3pm at the Oregon Youth Center.
Donations
Have gently used items to donate to the book sale? The Friends of the Library are only able to accept donations which fit the Friends Donation Guidelines (PDF). Items that do not fit the guidelines will be declined.
If you wish to donate more than 2 boxes, please contact the library at (608)835-3656 or orelib [at] oregonlibrary.org (orelib[at]oregonlibrary[dot]org) before dropping off donations.